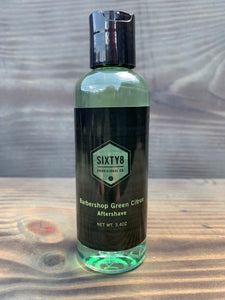 Sixty8 Provisional Green Citrus Aftershave - 3.5oz
Regular price $25.00 Sale
From the Barbershop comes Sixty8 Provisional company and it's products. What better place to create a solid men's grooming line then a barbershop that has been in business for 50+ years !
The Sixty8 Green Citrus Aftershave is a mix of lime and other essential oils that combine to make a clean, cool, refreshing aftershave that cools and pleases. Not a traditional scent in the world of Barbering, but 60+ year in the business Joe Sr. from Joe's Barbershop gave it his approval so that should be enough for you. 3.4oz 
---
Application:
Place a few drops on hand and work into hair before styling. Or, place a few drops on hand and work into neck and behind ears to use more as a cologne. Or once again, place a few small drops into a water bottle and use to moisten hair before styling to give a Suttle hint of scent throughout the day.